"Casual, Romantic, with the perfect Jewelry."
What three words would best describe your style?
Casual, Romantic, with the perfect Jewelry.
My idea of a perfect day is. . .
Going out early on the pool deck with my French press and sweet cream as the sun begins to rise, catching up on my reading and journaling. I love being retired from working but not living!
Who has most inspired your fashion sense?
My 5 daughters help keep me young by sharing their style tips with me. Two are hair stylists and nail technicians. They all have great taste in personal and home design!
What one fashion rule do you always abide by?
Having several color combinations that go well together that I can grab quickly. I love teals, navy, and whites!
The biggest fashion faux pas (mistake) I ever made was. . .
Thinking I need to wear looser fitting clothes as I get older.
What article of clothing is at the top of your shopping list?
I love to shop Soft Surroundings tops.
Describe what's in your travel beauty bag.
Skin-softening cleanser, antioxidant day crème, wrinkle-smoothing capsules, glowing serum, lifting eye crème, lift & firm neck treatment, crème de serum, cream blush, bronze blush.
The best beauty advice I ever received was. . . .
Use exfoliating/sunless tanning lotion SPF 15.
Name your favorite perfume or signature scent.
Viva La Juicy
Where is your favorite place to travel?
In the past we have gone on business cruises and to all-inclusive Island resorts. We enjoyed our daughter's beach wedding when the whole family stayed in quaint beachside villas for a week of sun and relaxation before the wedding. Today, my husband and I go on 3-day business trips. We now also enjoy staying home poolside with our family and 12 grandchildren.
Do you have a passion project or favorite hobby?
Yes! A two hour session with LAM "Love After Marriage" workshop convinced us to hold a LAM workshop in our area to help strengthen not only our marriage but our children's and others in our community.
How has your style evolved over the years?
Having raised 5 sons and 5 daughters, I learned how to pack simply and quickly through the years and it has still served me well now that they are grown.
One item I never leave the house without is. . . . .
Lip Liner and Sunglasses
Quote to live by?
"God Esteem instead of Self Esteem" has been a great transition for me!"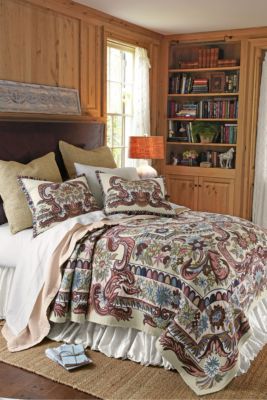 What is your favorite Soft Surroundings product?
When we finished adding our gazebo off our bedroom, I needed a fresh new bed look, and Soft Surroundings showcased a beautiful Tapestry bedcovering with Silk Provencal Shams and bedskirt.  I love how the colors came together in the two rooms!