"To make and keep good friends, you first need to be a good friend."
What three words would best describe your style?
Crisp, bold, and colorful.
My idea of a perfect day is. . .
Pretty much what I do almost every day: coffee and newspaper, workout, volunteer, see my kids, and, because it's my perfect day, not cooking dinner but having yummy takeout or, even better, a dinner out with my family.
Who has most inspired your fashion sense?
Probably my peers. We all tend to get ideas from each other.
What one fashion rule do you always abide by?
No white shoes after Labor Day or before Easter. Living in Florida now, I'll wear white pants in the early fall or late spring, but never white shoes.
The biggest fashion faux pas (mistake) I ever made was. . .
Not realizing that my navy dress was more sheer outside than in my bathroom!
What article of clothing is at the top of your shopping list?
Black patent leather pumps.
Describe what's in your travel beauty bag.
Trish McEvoy makeup, CeraVe cleanser and moisturizer, three hair brushes, various hair products and a hair dryer.
The best beauty advice I ever received was. . . .
To sleep on my back so that my face will smooth out during the night. Side and stomach sleeping will cause more wrinkles.
Name your favorite perfume or signature scent.
Chanel No. 5
How do you unwind?
I enjoy sitting with my husband while swirling a glass of Cabernet out on our back porch just listening to the birds or, more likely in the summer, an afternoon thunderstorm.
Where is your favorite place to travel?
Domestic: National Parks, and I have many still to see. International: Europe but I can't wait to visit other continents.
Do you have a passion project or favorite hobby?
I love to photograph my kids and their friends at school and sporting events. I also create slideshows with music using the photos I've taken. I love to grow edibles in my backyard landscape, anything from herbs to bananas to meyer lemons! I also enjoy jewelry making but have had less time for that lately.
Describe the most memorable gift you've ever received.
In 1985, my sister was just finishing her student teaching and thus was very low on funds. For my Christmas gift that year, she hand copied every recipe in our mother's recipe box and decorated a new box for me. I still use and treasure that gift every week!
How has your style evolved over the years?
I worked in the corporate world until my first child was born. I was very 'buttoned up' then. Today, 18 years later, I tend find something just enough different from everyone else that will make my friends, and sometimes even strangers, feel compelled to complement me on. I have passed on many of my Soft Surroundings catalogs to friends because they've liked something I've worn.
One item I never leave the house without is. . . . .
My iPhone! I am too busy to find time to read much but I still stay up on 'reading' by loading audio books on my phone. I often will walk the dogs just a little longer if I'm in a particularly good part of the book!
Quote to live by?
"To make and keep good friends, you first need to be a good friend."
What is your favorite Soft Surroundings product?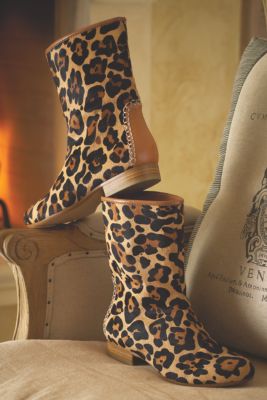 My leopard print booties!  They still look (nearly) new after three winters in Florida.  They are perfect for jeans and long skirts and are so comfortable!  I always, always will get a complement on them when I wear them out and about.