The beauty of at-home spa tools is that, despite the price tag, you'll get so many more treatments than if you'd spent that money at a spa or dermatologist's office. Especially since most procedures require multiple visits. Join us as we skip the spa and peel back the layers of information on at-home beauty devices.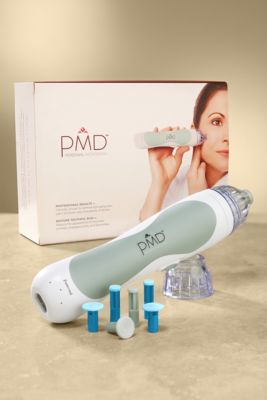 Microdermabrasion Machine
Microdermabrasion Machines work by exfoliating the uppermost layer of skin. Dulling dead skin cells and debris are sloughed off then vacuumed away, revealing fresher, brighter skin. Microdermabrasion can fade dark spots, diminish fine lines and wrinkles, improve acne and scars and shrink pores. To whisk away the years, Microderm Machines use either a diamond tip or micro-fine crystals (aluminum oxide or zinc oxide). Some machines offer both. The advantage of a diamond tip is that you can get it closer to your delicate eye area (and those smile crinkles by your eyes), whereas crystals, and their resulting messy residue, are best kept far away. Microderm Treatment is recommended no more than once a week. You can usually see some results after the first use.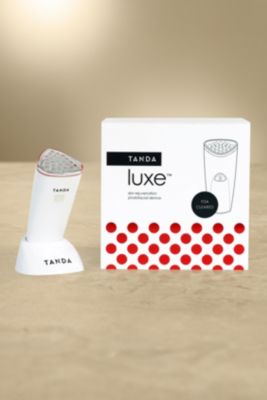 Light Therapy Machine
Home Light Therapy (also called Photo Facial Treatment) uses concentrated, non-UV lights for this non-invasive, totally painless skin rejuvenation… with no downtime. Different colored lights serve different functions. Red LED or infrared lights are the best to plump, firm and reverse the years. Yellow LED soothes rosacea and eczema-prone skin. Blue lights are the best acne fighters, killing the acne-causing bacteria at the source. Light Therapy Machines are either hand-held or hands-free. Hand-held is obviously more portable, so it's an easy travel companion. Hands-free often has a larger light surface area, meaning your treatment sessions will go more quickly. Whichever you choose, be sure to protect your eyes with a pair of goggles. Light Therapy is gentle enough for daily use and multiple sessions are required to see results.
Microcurrent Device
A Microcurrent Facial is often referred to as a non-surgical face lift because it can help to lift, firm and sculpt your face. Using low-level electrical impulses, Microcurrent is like exercise for your face muscles, retraining furrowed facial muscles to relax and spurring slack muscles to contract, giving you an immediate, youthful boost to your face. Microcurrent sounds like a better solution than Botox, which actually paralyzes the muscles, which some say could lead to muscle atrophy and more sagging in the future. It's recommended that you do Microcurrent Therapy every day, making a home machine an economical solution.
Galvanic Device
Like Microcurrent Technology, a Galvanic Device employs an electric current to reverse the years, but Galvanic doesn't "exercise" your facial muscles. Galvanic uses positive and negative ions to deeply clean the skin to remove impurities and debris and deliver deeper penetration of charged, skin-revitalizing products. Galvanic can lift, firm and tighten your skin, while the deep clean will leave you more radiant. Galvanic Therapy is recommended up to three times a week. You may notice improvement right away, but best results happen after a few weeks.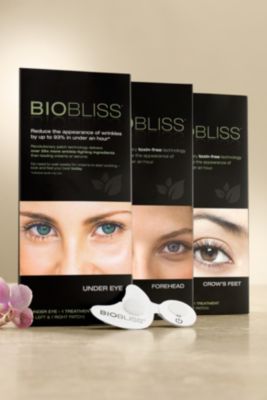 Hyaluronic Patch Therapy
Hyaluronic Acid is like the fountain of youth, temporarily plumping the skin by boosting moisture retention to diminish fine lines and wrinkles. Dermatologists have relied on Hyaluronic Acid as a wrinkle-filler for years, injecting it into patients' faces. A Hyaluronic Patch System uses transdermal patches with electric current technology to infuse Hyaluronic Acid much more deeply into the skin than traditional topical serums and creams can reach. This is a completely pain-free, easy-to-use wrinkle eraser with immediate results. It won't remove wrinkles long term, but it's great for those events where you just really want to look your best, nicely fresh and rested.
Sonic Cleanser
Relying on sonic technology, these high-powered brushes have the distinction of being able to deeply cleanse skin to remove dirt, debris and toxins for clearer skin, smaller pore size and a glowing complexion. The exfoliation that occurs with a deeper clean allows your skin products to melt deeper into your skin, giving you even greater benefits. When using a cleaning brush on your skin, it's important to not overdo it. Use a light touch, so you don't overstrip your skin, which can actually backfire and make your oil-producing glands go into overdrive. Buy a quality brush with more revolutions per minute which will actually be more gentle on your skin.
Laser Hair Removal Device
Home Laser Hair Removal Devices can save you the aggravation (and let's be honest, embarrassment) of having to endure endless wax sessions. Using pulsed light technology, the laser hones in on dark pigment to deliver a blast of energy to the hair follicle. Because the laser looks for this contrast between light skin and dark hair, it's important to note that it doesn't work well on tanned or darker skins. You risk burning your skin as the laser seeks the dark pigment. If you have tan or darker skin, it would probably be best to seek treatment by a pro, who can make adjustments to the equipment to safely remove your hair without sacrificing your skin. This procedure can be painful, even more so in the salon.
Teeth Whitening Kit
Using special light and heat, the new at-home Teeth Whitening Kits are far more effective than the clumsy, old home whitening strips. With whitening gel and a professional-looking mouthpiece, these systems can deliver many shades-whiter results just like the dentist's office, but without that fear-inducing chair or any tooth sensitivity. Results can last six months or more. Touch ups are usually necessary (unless you plan to give up that red wine or dark chocolate).
Doctor, Doctor
Before you try any at-home spa device, it's always important to discuss any treatments with your doctor beforehand. Some treatments are not suited for people with certain medical conditions. And always follow the directions for your product implicitly since you're serving as the esthetician now.