"Twenty years from now you will be more disappointed by the things that you didn't do than by the ones you did do."
How would best describe your style?
Casual and colorful
Who in your life has inspired you most?
My mother, by instilling me with the confidence to believe in myself, to value education, pursue a career, and to care for family.
What is your secret indulgence?
Ethnic jewelry (and shoes, of course!)
Where is your favorite place to travel?
The Mediterranean region — Morocco
What is the best beauty advice you've ever received?
Select styles to compliment my body type regardless of the latest trend.
What one clothing item is worth splurging for?
A special jacket
What is one fashion rule you always abide by?
Coordination of colors
What is one fashion rule that was made to be broken?
No pants for women in the workplace! When I moved to NYC right out of college in the 60s, dresses were the business attire; women did not wear pants in the workplace. I helped break that rule and dared to wear a pants suit to work at my office on Park Avenue before it was "allowed"!
Do you have a signature scent?
Shalimar
How do you unwind?
Taking a yoga class or going for a sail.
What are you most proud of?
Being part of a close and connected family.
How would you describe the decor of your house?
Eclectic Southwest
What's your passion project or hobby?
Photography, and using it to support charitable endeavors.
How has your style evolved over the years?
It has become softer and more comfortable, with accents from my collection of ethnic Jewelry.
What's your beauty routine?
Basic skincare, light foundation with sunscreen, and subtle eye and cheek color.
Do you have a signature accessory?
Bracelets, almost never without one.
Who influenced your personal style?
A combination of two unlikely opportunities: a "charm school" class that gave me confidence in dress and grooming; travel outside the US with the resulting exposure to other cultural preferences in color and dress.
Quote to live by?
"Twenty years from now you will be more disappointed by the things that you didn't do than by the ones you did do. So throw off the bowlines. Sail away from the safe harbor. Catch the trade winds in your sails. Explore. Dream. Discover." – Mark Twain
What is your favorite Soft Surroundings product?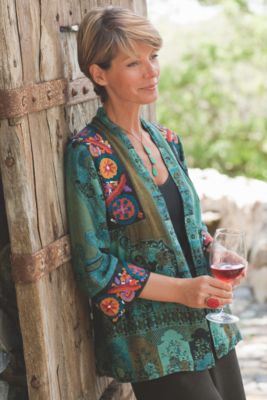 Istanbul Jacket