"Don't cover up your real beauty with cosmetics … enhance it!"
What three words would best describe your style?
Classic-based Bohemia
My idea of a perfect day is. . .
Spending time with God and good friends next to a large body of water, preferably an ocean.
Who has most inspired your fashion sense?
My mother, with a bit of help from various silver-screen icons.
What one fashion rule do you always abide by?
Color coordination is key!
The biggest fashion faux pas (mistake) I ever made was. . .
Wearing an item that was wrong for my body type.
What article of clothing is at the top of your shopping list?
A classy, stylish top (which is harder to find than one might think!)
Describe what's in your travel beauty bag.
Foundation, powder, eye shadow, eyeliner, lip liner, lipstick/lip gloss, lip balm, makeup remover, anti-aging moisturizer.
The best beauty advice I ever received was. . . .
Don't cover up your real beauty with cosmetics … enhance it!
Name your favorite perfume or signature scent.
Patchouli oil
How do you unwind?
Music, reading and/or Facebook lurking.
Where is your favorite place to travel?
Northwest Florida (or any locale featuring a white-sandy beach)
Do you have a passion project or favorite hobby?
I'm a writer; my passion is putting people's heartfelt thoughts on paper in such a way that enhances them and helps others to understand them.
Describe the most memorable gift you've ever received.
I've received many memorable gifts, but the most memorable would be an enormous bouquet of exotic flowers I received years ago as a token of appreciation from a clothing designer I'd interviewed and highlighted in a publication I write for. Definitely not your $40 bouquet of roses — some of the flowers I'd never seen before. I was touched. Granted, he may have had an assistant order them, but it sure SEEMED like he'd done so himself, taking special care.
How has your style evolved over the years?
My style has evolved from wanting the latest trends to sticking with figure-flattering perennial pieces, accented by age-appropriate trend forays.
One item I never leave the house without is. . . . .
A handbag that matches or coordinates with my outfit.
Quote to live by?
One of the earliest Holy Bible scriptures I memorized — Proverbs 3: 5-6: "Trust in the Lord with all thine heart; and lean not unto thine own understanding. In all thy ways acknowledge him, and he shall direct thy paths."
What is your favorite Soft Surroundings product?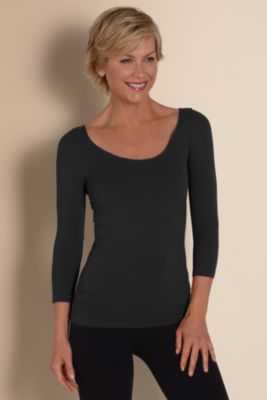 Underwire 3/4 Sleeve Tee