"Our attitude toward life determines life's attitude towards us."
What three words would best describe your style?
Classic, feminine, comfortable
My idea of a perfect day is. . .
A great day at work finished off by a nice dinner out with my husband.
Who has most inspired your fashion sense?
Katherine Hepburn
What one fashion rule do you always abide by?
Never wear white before memorial day or after labor day. No matter where you live.
The biggest fashion faux pas (mistake) I ever made was. . .
The Annie Hall look.
What article of clothing is at the top of your shopping list?
Sweaters
Describe what's in your travel beauty bag.
Philosophy skincare, John Frieda Born Blond Hair Care, Mascara, beige tone eye shadow, longwear lipstick and perfume.
The best beauty advice I ever received was. . .
Wash your face and brush your teeth every night and drink lots of water.
Name your favorite perfume or signature scent.
Lancome Tresor
How do you unwind?
Watch TV and surf the internet.
Where is your favorite place to travel?
Caribbean
Do you have a passion project or favorite hobby?
Decorating
Describe the most memorable gift you've ever received.
As a teenager my mother would take me shopping for my Christmas presents so I could pick out my own clothes. Then she would wrap everything and I would open them with everyone else. One year I wanted a suede jacket with the long fringe. They said no, too expensive, I already had picked out all of my presents, but as I opened all the boxes of clothes Mother & I had shopped for, one contained the jacket I wanted. Twenty years later I still had that jacket.
How has your style evolved over the years?
It has become more relaxed.
One item I never leave the house without is. . . . .
It used to be mascara until I discovered semi-permanent eyelashes.
Quote to live by?
"Our attitude toward life determines life's attitude towards us."
What is your favorite Soft Surroundings product?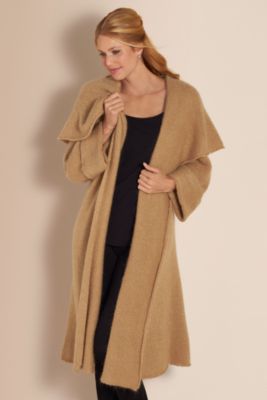 The Telluride Topper, I would love to have one in every color.