"Do today what you can live with tomorrow."
What three words would best describe your style?
Feminine, Flowing and Romantic
My idea of a perfect day is. . .
A picnic at Joseph Phelps Winery in Napa Valley. Then spending the night at the historical Old Mill Inn in Napa with a bubble bath in a slipper tub, sipping champagne and eating chocolate covered strawberries.
Who has most inspired your fashion sense?
Soft Surroundings, I lived in St. Louis when they first started. I am always asked where I shop.
What one fashion rule do you always abide by?
Keep to soft colors and black or navy and wear what I feel pretty in not what someone says to wear simply because it is the latest craze.
The biggest fashion faux pas (mistake) I ever made was. . .
I wore a fuchsia pink sweater to a bridal shower recently and when the photos came back I looked as big as a cow.
What article of clothing is at the top of your shopping list?
I love the cotton Soft Surroundings nighties. I bought the Gretchen Gown this week. I also love the soft knit hoodie tops with front pockets. You can wear them with jeans or silk slacks.
Describe what's in your travel beauty bag.
Philosophy skin care products, Jane Iredale make-up, Elizabeth W bath and body items in Vetiver scent.
The best beauty advice I ever received was. . . .
My mother always told me to take the time and money to take care of my face/skin because it was going to be the first thing people see of me every day of my life.
Name your favorite perfume or signature scent.
Right now – Benefit's Garden of Good and Eva. My all time favorites were Flora Danica and Privilege but they stopped making both of them. I'm looking for a new "Signature".
How do you unwind?
A glass of red wine and a good book.
Where is your favorite place to travel?
The UK, especially Ireland. I would love to go to wine country in Italy and France and take a culinary class tour.
Do you have a passion project or favorite hobby?
Counted cross stitch, embroidery, lap quilting.
Describe the most memorable gift you've ever received.
My husband designed and created 2 coffee table size books on the computer with photos from the day we met to our 40th Wedding Anniversary which was June 2, 2013. There are over 1,000 photos! He gave me a diamond necklace and earrings too, but the photo albums were the best gift ever.
How has your style evolved over the years?
I started out thin but have gained weight.  It is a challenge to wear clothes that are becoming when you weigh more.

One item I never leave the house without is. . . . .
A purse, I LOVE handbags. I just bought the new brown fringed leather bag from Soft Surroundings, it is beautiful.
Quote to live by?
"Do today what you can live with tomorrow."
What is your favorite Soft Surroundings product?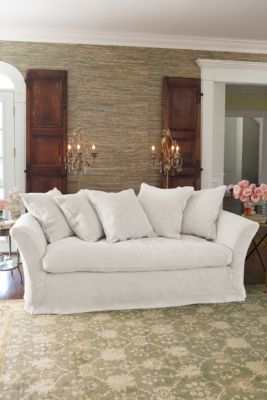 The new sofa in the At Home catalog.