"Always use a good moisturizer on your skin."
What three words would best describe your style?
Conservative, elegant and confident
My idea of a perfect day is. . .
My perfect day is the fall season. I love the beautiful colors on the leaves and the crispness of the air. I also love fall colors in my wardrobe.
Who has most inspired your fashion sense?
My daughter. She is a professional, and yet she has incorporated into her style a way to look fabulous and professional at the same time.
What one fashion rule do you always abide by?
No white shoes before Memorial Day!
The biggest fashion faux pas (mistake) I ever made was. . .
Was wearing sandals in Chicago in April. We had 80 degree weather that week and before the day over, the temp had dropped and it was freezing by time I got off of work.
What article of clothing is at the top of your shopping list?
Sweater, coats, and jackets.
Describe what's in your travel beauty bag.
Makeup and skincare items
The best beauty advice I ever received was. . .
Always use a good moisturizer on your skin.
Name your favorite perfume or signature scent.
Be Delicious
How do you unwind?
Reading and listening to music.
Where is your favorite place to travel?
Paris
Do you have a passion project or favorite hobby?
Dancing. I am a dance instructor and I love to see my student's face when it finally clicks. This is always a priceless moment for me!
Describe the most memorable gift you've ever received.
My Grandmother's Bible after she made her transition.
How has your style evolved over the years?
I use accessories to change the look of my outfits and I always look for items to go with what I already own.
One item I never leave the house without is. . . . .
A beautiful handbag.
Quote to live by?
"You don't have to be seen to be heard." –My Mom
What is your favorite Soft Surroundings product?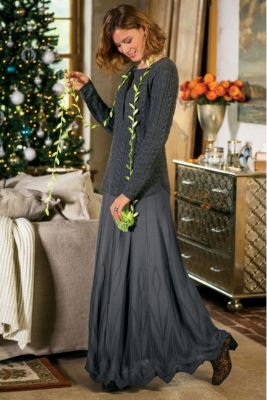 I love the bold beautiful flowing skirts.