"Live, Love, Laugh, Leave a Legacy."
What three words best describe your style?
Classic, current, and comfy
My idea of a perfect day is. . . ?
Time spent with my daughter painting and reading and swimming in the summer.
Who has most inspired your fashion sense?
My mother inspired me every day of my life. She taught me that style lasts forever and fashion fades.
What one fashion rule do you always abide by?
Always add something black; a piece of jewelry or a scarf.
The biggest fashion faux pas (mistake) I ever made was. . .
The 80's. I was in high school, I made them all. 🙂
What article of clothing is at the top of your shopping list?
A crisp white shirt.
Describe what's in your travel beauty bag.
I travel as I live every day. Very natural make-up. Skin care is always at the top of the checklist
The best beauty advice I ever received was. . .
Drink lots of water, eat clean and keep my skin clean and moisturized.
Name your signature scent.
Amazing Grace.
How do you unwind?
Listening to easy jazz and flipping through a magazine.
Where is your favorite place to travel?
I've been to many destinations, but nothing has ever compared to Disney World.
Do you have a passion project or hobby?
My home is my ongoing project and my hobby.
Describe the most memorable gift you've ever received.
The importance of gifts certainly changes over the years. As a child, I remember a giant teddy bear that I just loved. But that does pale to the gifts from God of my three children and my husband.
How has your style evolved over the years?
I have seen myself change from fads in fashion to a more classic and lasting style.
One item I never leave the house without. . .
A watch.
Quote to live by?
"Live, Love, Laugh, Leave a Legacy."
What is your favorite Soft Surroundings product?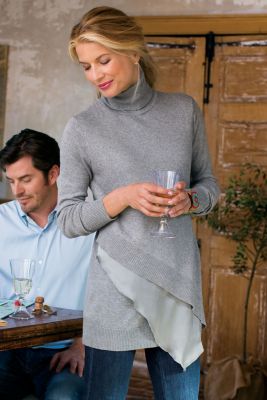 The Talia Turtleneck is the most beautiful top I have seen in a very long time.