"When the student is ready, the teacher appears."
What three words best describe your style?
Chic, classy, avant-garde
My idea of a perfect day is. . . ?
A quiet lunch by the beach and an evening at the theatre.
Who has most inspired your fashion sense?
Kimberly Goldson
What one fashion rule do you always abide by?
Always wear mascara!
The biggest fashion faux pas (mistake) I ever made was. . .
Going braless in the sixties
What article of clothing is at the top of your shopping list?
Beautiful jewelry/scarves
Describe what's in your travel beauty bag.
Perfume, mascara, foundation, lipstick and compact powder.
The best beauty advice I ever received was. . .
Always wear night cream
Name your signature scent.
Lovestruck
How do you unwind?
Listen to jazz/classic R&B
Where is your favorite place to travel?
Somewhere where there is water, forest and peace.
Do you have a passion project or hobby?
Astrology
Describe the most memorable gift you've ever received.
A blue lighted indoor water fountain.
How has your style evolved over the years?
It has become more sophisticated
One item I never leave the house without. . .
Earrings
Quote to live by?
"When the student is ready, the teacher appears."
What is your favorite Soft Surroundings product?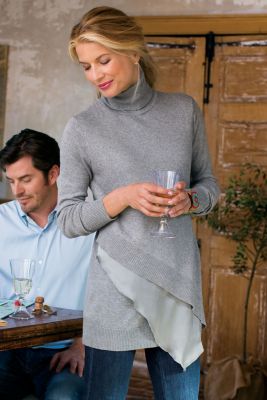 Your beautiful asymmetrical tops.