The entrance into your home doesn't have to be big to be grand. It just has to make a great first impression.
It's unfortunate so little attention is paid to most entryways. And, worse yet, many are piled high with practical things—too many coats on the rack, or too much mail on the table. You might as well hang a Do Not Disturb sign on the knob.
But there's an easy way to fix all that. First, try this test.
Go outside and walk in your own front door with your eyes closed. (Squint enough not to stumble!) Now, quickly open your eyes and look to the left, right, up and down. Then close them again.
What did you see? A rug? A light fixture? Decorations on the wall? Whatever it was, that's how you're saying, "welcome to our home" when guests walk in.
The 360 Approach
When you looked to the left, right, up and down, you shifted your first impression away from what was in front of you (the rest of the house) to what was all around you (the entryway).
That's just what your guests do. They enter and pause. Sometimes it's to say hello and get acclimated. Sometimes it's to take off their coats and look around. This is why the fixtures, furnishings and decorations in your entrance are so important.
They are the best way to foreshadow all of the delights, charm, character and attitude further inside.
One Unique Piece
Create a focal point. It could be the inside of the door itself, painted a glossy black or French blue. Or it could be something as surprising as filling the umbrella stand, not with umbrellas, but with half a dozen antique walking sticks.
Decide on one signature piece inside your door to signal the personality of the people who live there.
One of our favorite French country homes has a simple but captivating entryway. Hanging from the ceiling is a breath-taking pendant light made that way when the homeowner draped one of her gauzy, antique scarves around the fixture.  It's a detail that never fails to start a conversation.
Lots of Space
Anyone who is lucky enough to have a large and spacious entryway knows it's not always a blessing. The more space, the more things accumulate.
A great solution is positioning a sizeable dresser within reach. Our enchanting West Indies Chest is ideal with its exotic faux bamboo and an air of the Caribbean.
Deep drawers are a great place to keep keys safe and out of sight. But a dresser in your entryway is also perfect for storing off-season hats, gloves, table linens, light bulbs, even a tool or two and a deck of cards.
Don't Forget the Walls
Another great opportunity to make a positive first impression is with the walls.
A natural choice is to hang a mirror. It will enlarge the space and supply a place for last looks before walking out the door. But here is a way to plus that up a bit.
In the foyer of one of our favorite small and comfy French bistros, there's a collection of ten to fifteen vintage hand mirrors hung with ribbons on the wall. They're graphic, feminine and they add sparkle.
In a home setting that same idea will delight friends who visit often. They'll enjoy spotting the additions. Don't be surprised if they give you a few for your collection!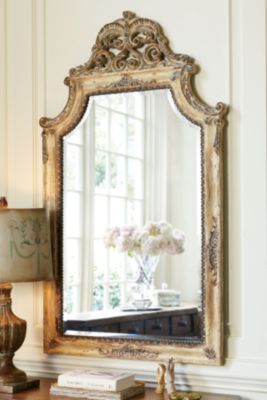 Underfoot
The last, often neglected space is the floor. It's typical to fill the void with a rug that fits with the décor and can withstand the comings and goings. But why? Isn't the floor the first, best way to make a statement?
So consider a rug or mat with bold colors or graphic design. Our Jardin Rug will do the trick. It comes in a spectrum of colors—perfect to change out with the seasons.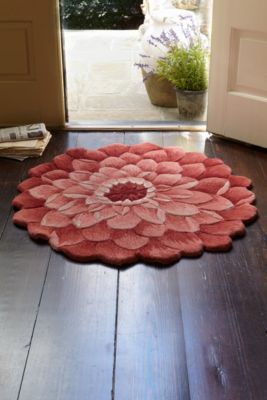 Or if you have wood flooring at your door, think about creating an attention-getting pattern with wood stain. Try a simple contrasting border around the perimeter, or go bigger with a checkerboard or herring bone pattern.
In the end, your entryway is your welcome to the world. It's also your last glimpse of home as you exit, and the first breath of comfort when you return. It's a unique and special place. And with a little attention, you'll design a space with a presence all its own.