"What we put into the world comes back."
What three words best describe your style?
Flowing spirit goddess.
My idea of a perfect day is. . . ?
Feeling good, looking great, doing what I love, enjoying life. Coffee shop writing creative time, art fair, beautiful weather, a beach nearby. On a work day, summer beach groups of incredible women connecting.
Who has most inspired your fashion sense?
It's been an evolution – from country girl to corporate professional to adding in a few Bohemian earth goddess touches. Global Goddess Sunni Boehme was an inspiration in some of that; feminine artists also, and a creative spirit.
What one fashion rule do you always abide by?
Matching. What I wear has to match and fit together, and I have to feel beautiful in it that day.
The biggest fashion faux pas (mistake) I ever made was. . .
Back in grade school, Mom made some of my clothes. The beautiful dress that was a birthday present one year was way too long for the times. I wore it anyway that day. I felt a mix of out-of-place and uncomfortable… and wanting to wear the beautiful colors in it. And it was my birthday and a gift.
What article of clothing is at the top of your shopping list?
A part of me would love to revamp my wardrobe out of your catalog. One item? I'd start with the Nadia gown…and then go to some of the flowing, comfy tops and pants and skirts. I would just have delightful fun!
Describe what's in your travel beauty bag.
Artisan-made natural vegetable-based soap,Young Living Lavender body lotion, YL essential oils, organic shampoo and conditioner, comb, toothbrush, toothpaste, lipstick. Pretty basic and simple.
The best beauty advice I ever received was. . .
A person's smile is their greatest beauty accessory.
Name your signature scent.
Young Living Essential Oils… I wear their Valor blend daily. Sometimes add others, or just have them open when I'm working… Sacred Mountain, Joy, Gratitude, Highest Potential, Harmony, Abundance.
How do you unwind?
Art fair fix, i.e. browse in stores that feed the muse who loves functional art and beauty…TJ Maxx, and area resale shops. And then there's Facebook, going for a walk, watch TV, read, pet the cat, road trip.
Where is your favorite place to travel?
St. George, UT was beautiful, and I loved San Francisco too. On my list yet: Sedona, Santa Fe, Santa Barbara. And Route 66 road trip with my husband. We have such a beautiful country.
Do you have a passion project or hobby?
Art fairs are my summer weekend hobby. My passion is my work, my creative child, to inspire and grow all that is great within us and let it shine…because our brilliance and grace is needed. And we have so much of it we hide.
Describe the most memorable gift you've ever received.
There's so many; I've been blessed and am in deep gratitude. The one I wear daily is a double-heart necklace. (Search my name and double-heart necklace if you want the back story.)
How has your style evolved over the years?
It's gotten more flowing and feminine, adding more scarves and color. Wear what I feel like wearing each day without regard to a dress code.
One item I never leave the house without. . .
Underwear and shoes and clothes…and a coffee mug that matches what I'm wearing.
Quote to live by?
"What we put into the world comes back."
What is your favorite Soft Surroundings product?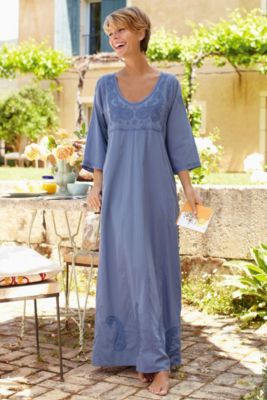 There are so many I love.  Nadia gown was the first one, though, that I love and keep coming back to.