"Never explain, never complain!"
How would you describe your style?
Casual elegant
What item in your closet receives the most wear?
During cold weather, long black sweater-like coat. In summer capris and cotton tee and cardigan (tropical colours).
Do you have a signature accessory?
Scarf.
What colors or patterns do you gravitate toward?
Pinks, blue and black.
When have you felt your most beautiful?
On my honeymoon 7 years ago.
Name one beauty product you can't live without.
Moisturizer.
What one woman do you most admire and why?
My mother – she grew up in London, England during WWII, missing out on the fun activities most teenagers experience. After the war, she was one of fourteen flight attendants (out of 2,000 applicants) chosen by B.O.A.C. She also worked for the BBC for a short time, but left as women weren't being promoted to higher positions. When my mother married and had children, she devoted her life to nurturing her family. Now, at 90 years old, she continues to be admired by all who cross her path and she is adored by her children and grandchildren.
What's your passion project or hobby?
Prayers and Squares ministry at our church – making quilts for people of all ages going through hard times or with terminal diseases. Quilts are meant to bring comfort to the recipients.
How do you relax?
By drinking a good, strong cup of tea and eating piece of chocolate.
Quote to live by?
"Never explain, never complain!" -My mother.
What is your favorite Soft Surroundings product?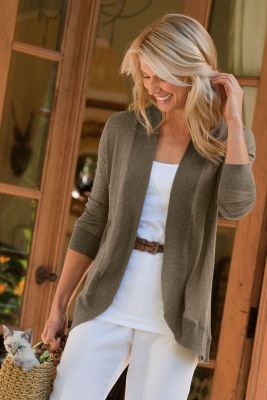 Long, knit sweater-like coat.