Have you been blessed with the gift of being artistically inclined? If not, never fear! You can still express your creative spirit with your style choices. This season, we're drawing major inspiration from all things folkloric, gypsy and bohemian.
This season's most popular trends take influence from the romanticism of the gypsy and bohemian lifestyle. Vibrant colors, luxurious textures, eye-catching patterns and swingy fringes make this trend fabulously fun to wear.
One of bohemia's most famous painters, Henri Toulouse-Lautrec, captured the energy of the city's nightlife with vivid colors and bold lines. Like Henri's paintings, our Izmir Jacket is truly captivating, featuring swirling florals and daring textured tweeds. A stylishly wearable take on the folkloric fantasy world!

A beautiful point of the folkloric influence is how layer-friendly many of the pieces can be. Whether pairing our Autumn Paisley Tunic with our Dani Leather Bag or our Alessandra Cocoon Sweater with our Gypsy Caravan Necklace, you'll be sure to get compliments on your ensemble. Combining pieces from this trend adds a unique twist to your look. The true beauty of the Gypsy Caravan Necklace is how it pairs effortlessly with everything – from the Perfect Shirt to our intricately detailed Sarasi Skirt.

Another easy way to dial up the artistic look? Add a pair of textured and leather boots for just a touch of the bohemian influence. Our Tilton Boots feature a fun soft yarn tapestry with antique-look bronze studs at the top. Pair them with a "customer-favorite" pair of Have to Have Crop Leggings in black and our Saint Savin Jacket for the look of a true artist at heart.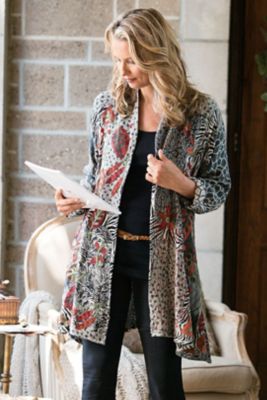 Do you ever draw style inspiration from art? Comment below!
Shop our "State of the Art" Trend Collection here.